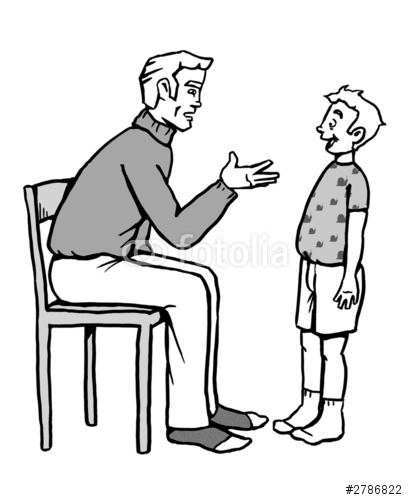 Hard working, blue collar dad, Bob Sims, was outraged. "Timmy Simms, you better get down here right now!
Dutiful son nine year old Timmy slammed his bedroom door and vaulted down the stairs. His grin is huge. He looks up to his dad. "Hey daddy, what's going on?"
"What's going on? Your school emailed me a copy of your Current Affairs test today. You didn't get a single question right. Zero percent. How do you explain this?"
Timmy kept his chin high and met his dad's stare eye to eye. "Actually dad, I got a hundred per cent on the test."
"Timmy, I'm warning you," Bob scowled. "Look at this, every answer is wrong."
Timmy pumped up his little chest as big as he could. "With all due respect daddy I gave alternative facts, therefor every answer is correct."
Bob ran a hand through his graying hair. "Timmy, I'm just about out of patience here. There are facts and there is fiction and your answers were one hundred per cent fiction--total crap!"
"Where have you been Pop? Alternative facts are the
new
facts...or are
also
facts so I nailed it daddy, I nailed it."
"Son, where are you getting this stuff?"
Alternative facts are hot!
"We studied it in class daddy, a woman named Kellyanne Conway who's very close to the most powerful man on the planet said so."
"Look Timmy, you're only nine and maybe you're getting a little confused. Sometimes in politics people say--"
"But neither the President or Kellyanne walked the statement back. And if they're my role models and he's the most powerful guy on the planet, why can't I use alternative facts on my test?"
"Oh boy," Bob sighed and began pacing. "Son, the President and his staff aren't always right ok."
"So why did you vote for him daddy?"
"Well that's because--I didn't know the--you see, the choices in the race--which is to say that if I could do it again--"
"Are you ok daddy, you're kinda sweating"
"Yes, yes I'm fine. Let's get back to this test," the proud father said rolling up his shirt sleeves. "Level with me here Timmy, how could you get every question wrong?"
"I learned in my class that when that Sean Spicer man said the President's inauguration was the biggest of all time, he was wrong."
"That's right Timmy, he was wrong."
"But then Spicer-Man said the President believes...what he believes. And so, well,
I
believe in the
alternative facts that I wrote on my test."
"Holy-moly. O.K. Timmy in's getting late let's pick this up tomorrow."
"O.k. daddy. Do you want me to Brexit back up to my room?"
"Hardy-har-har son," Bob said hugging the boy. "By the way son, what do you think of your Current Affairs teacher?'
"I like her. She's very pretty. I think I might grab her by the pu--"
"TIMMY!!!!!!!!!"